Killa Instinct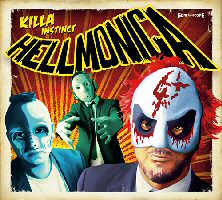 Killa Instinct formed in 1990 and were part of the pioneering age of UK Hip Hop. Early releases came on the now legendary Music of Life label, in particular The Bambi Murders which reached no2 in the Kiss FM Hip Hop charts and introduced the bands uncompromising style of breakneck beats, rapping and scratches.
After a long line of successful E.P releases and sell-out European tours during the 1990s, the band gained a reputation for delivering highly volatile, energy packed live shows and they soon earned themselves a place in the UK Hip-Hop hall of fame.
The groups first album was All Hell Breaks Loose, a genre defining collection of tracks recorded at the height of the UK Hardcore Hip Hop era – but, due to various reasons out of the bands control, was held back until 2010.
Now, original crew members Bandog and Geta have enlisted the vocal talents of MC Falasha. Falasha's diverse style and delivery has added a new dimension to the Killa sound. Working together for the first time they created the new album Hellmonica.
Hellmonica takes a bold step forward and introduces Killa Instinct as a crew, whilst still true to their hip hop and punk beginnings are also keen to take advantage of the ever-blurring lines of musical genres. Taking influences as far wide as blue grass, contemporary classic and UK Bass music Hellmonica is a refreshing take on UK Hip Hop, steering well clear of the stereotypes, yet still manages to deliver an onslaught of hardcore, bass driven Hip Hip capable of slaying the hardiest of heads.