BITCH PLZ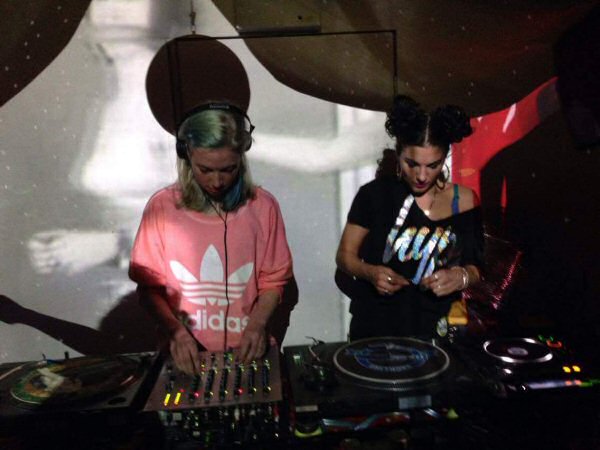 All-new, all-girl super group starring a strong bevy of 2 dark-heavy, bass-banging DJs and 2 hostess-vocalist instrumentalist-melodists.
Luscious illuminating lyrics and spine tingling harmonies are pressed down deep in a sweaty bubblin' swamp of bass bangers, 2-step garage, bassline house, dubstep, grime, featuring rare dubplates and white labels from their deep crates. Weird-arse raw-to-the-core shit that'll make you wiggle like a worm on the sharp end of an adrenaline stick.
These four ladies hail from all four corners of the world of bass, each bringing their own unique heritage to the booming blend of soul shaking ear pleasers for BITCH PLEASE.
HollyFlo cut her teeth in France, Berlin, Barcelona and finally North London, meeting the matriarchal melody makers when she won a hip hop talent competition at Silver Bullet in March 2015. She so impressed the panel with her interaction and connection with the audience, that she now regularly hosts Hip Hop and Bass Music events for such heavyweight headliners as Benny Page, Scratch Perverts, J Star, as well as Boombap Festival, where she hosted the main stage for Buggsy, Ocean Wisdom and Genesis Elijah. Holly Flo Lightly is now signed to SIKA and is currently recording her debut EP, due for release Autumn 2016.
"I saw something special in Holly Flo Lightly from when she first hit the London scene in 2014. She has a unique stage presence which is natural and mesmerizing." Mas Law Rapper, Producer, Singer, EOW LDN Champion SarahTonin made her way through a labyrinth of Croydon dubstep, 2-step and garage via classical music, soul and jazz, violin and vocals, to perform at live venues including Roundhouse, KOKO, Islington Academy, Forum Kentish Town, Barbican, Royal Albert Hall, Queen Elizabeth Hall, Royal Festival Hall, 100 Club, Ronnie Scott's, Electric Ballroom and Jazz Café.
This multi-faceted performer is most at home making loud sounds under the bright lights and has stunned the stage at Edinburgh Fringe, Glastonbury, Isle of Wight, Bestival, Secret Garden Party, Boomtown Fair, Wilderness, Kendall Calling, Standon Calling, Fusion and Symmetry. She's recorded at Maida Vale Studios, Abbey Road and Konk Studios and, worked with luminaries Nitin Sawhney, Courtney Pine and Goldie, and suppported Dillinja, Liam Bailey, Chase & Status
Kushie is a Yorkshire-raised badgyal basshead, a DJ with a fresh forward-thinking sound. Playing for crews: In the Face, Act Normal, Amenstrual, 24hr Garage Girls, and Boomtown and Symmetry, her versatile sets invariably bring a hyper vibe as she plays to her crowd. Having completed a course in studio production and engineering at Point Blank she's also the production don for the group, currently honing her skills, learning the ropes at in a high profile AV studio at Strongroom, Shoreditch. Her sound is a unmistakable mix of dark and moody, yet jazzy, bass heavy bangers. She's played shows on SubFM, Nasty FM and Kool FM and currently has a residency at the regular MBS records event, Rude Freqs.,/p>
LuSinda is one of the very few female DJs in London actively pushing scenes forward with her blend of jungle, DnB, hip hop, grime, and even funk and soul. The woman has crates to cry for. Not one to be beholden to one style or skill, she has worked with Hed Kandi, Jazz FM, Kinetec Records and even Boosey &Hawkes, she is currently official tour DJs for the Ragga Twins and My Bad Sister and supports acts as huge as Monki, Herbaliser, Mike Skinner (The Streets) DJ Snuff, Son of Noise, Caxton Press, Shy FX, Breakage, Noisia, Janset, Mr. Thing and The Skints. When she isn't playing out, she promotes her own nights showcasing the likes of The Correspondents, Alejandro Toledo (Sherlock Holmes films), Pest (Ninja Tune), North of Ping Pong, The Criminal Minds and Andy Smith (Portishead). As if this wasn't enough to keep her busy, she presents a regular radio show on Kool FM, manages acts, produces her own tracks and runs her own record label, GRUFF RECORDS.